On Monday 7 July 2014, the usually hard-hitting investigative current affairs program "Four Corners" (Australian Broadcasting Commission) showed "Power to the People". Here was the tagline:
While the rest of the world moves to embrace renewable energy why is Australia drawing back? Four Corners documents the revolution in power generation taking place across the globe.
The lead journalist, Stephen Long, also published a detailed opinion piece on it the next day, which you can read here. Going by the reaction on Twitter (search for the #4corners tag), the reception from most of the environmental community was rapturous.
So, fantastic! Apparently it's already all over for coal bar the shouting in most countries (e.g., 4Corners focused on various developments in the US), and unless Australia embraces this "Third Industrial Revolution" (via Jeremy Rifkin), it risks 'going the way of the dodo'. But…
Who noticed the internal contradictions? Claims of massively falling costs that was already making Australian coal uneconomic — whilst at the same time lamenting the upcoming disaster to investment if the mandatory renewable energy target and other subsides were withdrawn or cut back. Eh?
Below, Geoff Russell lifts up the rose-tinted sunglasses for a moment, and takes a more critical look at Long's claims…
Four Corners and its field of dreams
Geoff Russell, July 2014
How would you feel about an advertisement for a cold remedy with a tag line: "Our remarkable new treatment will see your cold gone in just 4 weeks!"?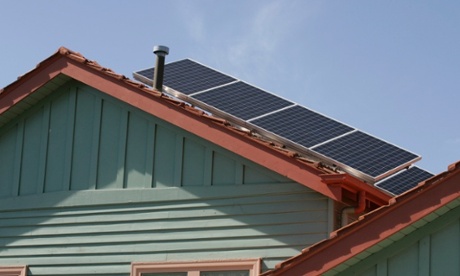 That's about the size of a recent article by Giles Parkinson for The Guardian called … "Solar has won …". It could also be a suitable paraphrase for an also recent ABC 4-Corners documentary on renewable energy: Power to the People by Stephen Long and Karen Michelmore.
The defining claim in the Parkinson piece is a CSIRO report claiming that by 2040 more than half of electricty may be generated and stored by "prosumers".
Is this supposed to be impressive?
I'd suggest that same claim, if realised, is good evidence of the ineffectiveness of distributed renewable energy as a climate change response. By comparison, France built an essentially carbon free nuclear electricity system in under 20 years. So while Australian electricity generates 850 grams of CO2 per kilowatt hour, France is down around 70 grams per kilowatt hour and she's been there since 1990. Germany's renewable revolution has them planning on hitting the same target by about 2050.
As I said in the beginning, renewable energy is the cold remedy for people who want to feel better in a month … or two … while contributing a bucket load of money to their local chemist's retirement fund.
On the other hand, Long and the 4-Corners crew seemed totally messmerised by fields of mirrors; or panels. They filmed them here, they filmed them there, it seems they're springing up everwhere. I half expected an army of Kevin Costner clones to emerge from behind a heliostat holding a banner saying "Build it and they will come". Well they've arrived and they're travelling in a van with an ABC logo.